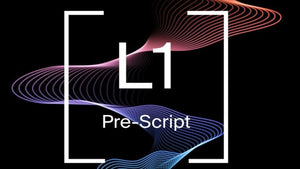 AUTUMN SEMESTER STARTS SEPTEMBER, 2023
The Pre-Script® L1 Coaching Certification is a 16 week course built for any student! Whether you are a trainer, a clinician, or an athlete, this course is designed to give you the confidence and skills you need to become completely adept to Coach.

The course covers:
Principles of Resistance Training

Functional Anatomy 

Joint Mechanics

Applied Biomechanics

Exercise Programming 
To better further your comprehension and application of these principles, this course comes complete with:
The PS L1 Manual - Our complete Level One textbook.

Interactive Labs 

Exclusive Coaches' Community

Five free months of Pre-Script® Collective*
Autumn Semester starts Autumn 2023. Register Now to Reserve Your Seat.
*Pre-Script® Collective offer is valid for both new and existing Collective subscriptions, and cannot be combined with any other Collective offer.