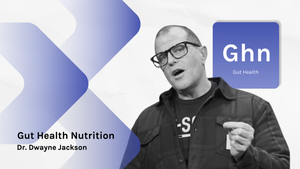 Everything you ever needed to know about 

gut health.
8-Week online course, led by Dr. Dwayne Jackson, PhD Neurovascular Physiology

This course is designed to provide participants with a comprehensive understanding of the importance of gut health and its impact on overall well-being. Students will explore the intricacies of the gut microbiome, learn how to maintain a balanced and diverse microbial community, and discover practical strategies to overcome digestive issues and promote gut health for a healthier and happier life.

✅ 
Prompt better body composition, blood work, inflammatory status, and energy levels.
✅ 
Boost mental health, focus, and mental well-being via the gut-brain axis.
✅ 
Overcome common digestive issues like IBS, SIBO, diverticulitis (and more) with nutrition strategies.
✅ 
Improve nutrient assimilation, catalyzing better exercise performance and training recovery.
Class starts November 29.