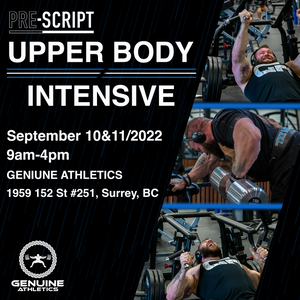 This two-day upper-body focused intensively is a deep dive into functional anatomy and applied biomechanics of the rib cage and upper extremities.

With a hands-on approach to assessments, interventions, exercise selection, execution, adaptations, and optimizations, this weekend is meant to provide you with the practical tools and understanding necessary to

Come learn the practical, real-world approaches to improving the outcomes of your clients, patients, and athletes.
Learning Objectives:
Personalize assessments based on individual structure 

Establish a working understanding of breathing mechanics

Improve range of motion and joint control

Select and execute proper exercises for Upper extremity and thorax.


Spend the weekend sharpening your tools while connecting with other top coaches, clinicians, and athletes in the Pre-Script Community.
Where:
Genuine Athletics
1959 152 St #251,
Surrey, BC V4A 9E3

When:
September 10 & 11, 2022
9 am - 4 pm